While writing on another topic, I came up with an idea that I feel deserves a post of its own. I call it: the
Internet Cat Test
.
The formula is, for any given collection of elements:
[Information Content] = 1 - ( [Elements with Cat Photos] / [Size of Collection] )
Yielding: decimal percentages between 0 and 1, where 0 indicates minimal information, 1 indicates maximum information.
While this measure is just applied silliness, what it offers is a heuristic for how information rich a feed is, as an inverse proportion of information to cats. If the majority of content is images that create small, endorphin-rich feedback loops in the brain (ie, pictures of cats), that's far less exciting, mentally stimulating, and rewarding for long-term growth than content that's about just about anything else.
Including Advice Animals.
Of course,
we can teach computers to identify cats with at least 74.8% accuracy
, so relying on meta information to identify cat images isn't strictly necessary. This is nothing more than a simplification of concepts like
entropy theory
and
information density
as they apply to the human brain, distilled into a small test you can try at home. Plenty of extension can be made, as we attain a better grasp of how information is encoded within the realms of human psychology and neuroscience.
I'm surely not the first person to observe this, but I figured I'd write it up for humor's sake, because I couldn't find it anywhere else. Happy catting!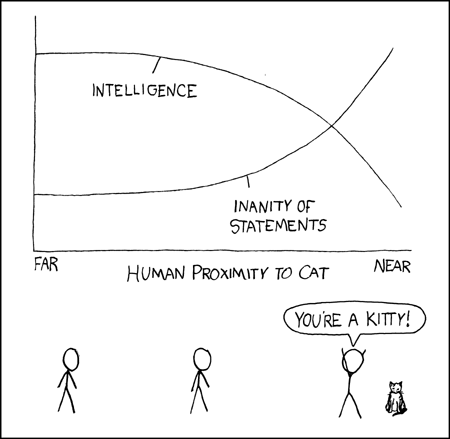 Extra Credit:
get this accepted as a topic in a major scientific journal.